we want to introduce cleaning to the XXI century
We work hard to provide you the best quality services.
Thanks to years of hard work providing a dedicated and personalized service we have progressed into one of Adelaide leading cleaning service providers operating throughout Adelaide and the Gold Coast working in many Australia's most prestigious sites. We now pride ourselves on offering a committed and personal service at an affordable cost.
holaCleaning.com.au was started to remove the hassle of finding, booking and paying a professional cleaner. At holaCleaning.com.au, we believe that having a clean home leads to a fuller, healthier and more productive life. While cleaning services have always been viewed as a luxury service for wealthy individuals, we are starting a movement to make cleaning services available to a broader audience. By creating an easy way to match homeowners with trusted, professional service providers at affordable rates, we're taking the first step toward our mission of providing cleaning services to everyone.
OUR 100% SATISFACTION GUARANTEE

It is our goal to offer you the best possible cleaning service available.
If you aren't 100% satisfied with your cleaning, we will come back and re-clean for free!
Cluster Services & Supply has been operational in Australia since 2016 and was originally formed as a professional window cleaning service. Due to the requests of many of our grateful clients, we also began offering cleaning and maintenance services and have grown from there.
The management of holaCleaning.com.au has seven years of combined experience in the field of property maintenance and cleaning. We have an in-depth knowledge of all areas of specialist and daily cleaning to ensure the service we offer runs as smoothly and efficiently as possible.
All staff recruited by the Company will be automatically on site trained in line with the Australia Institute Of Cleaning Science method and to the holaCleaning.com.au polices and procedures. All staff will be certified in their designated duties once they have reached the high standard set by the Company.
I am giving back to Australia the Gratitud.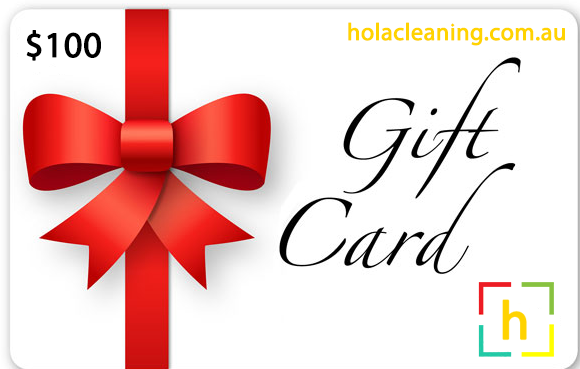 Interested? Shop this Gift Card!
Is the best useful gift you can give, who doesn't need extra help? mum, dad, daughter, son, sister, girlfriend, after-Party, Pre-Party, because YES!!! WE CLEAN…